M'OISHÎ: Ice Cream Shop Dubai | Luxury Japanese Dessert Ice Cream Shop – Moishi
Welcome to M'OISHÎ – Dubai's premium destination for exquisite, sweet Japanese desserts. Our dedication to excellence, innovation, and client pleasure distinguishes us as the perfect heaven for mochi ice cream lovers in UAE. Enjoy a symphony of flavors and sensations with our handcrafted Japanese sweet mochi rice cake. Each piece is a miniature masterpiece, blending the velvety richness of the best ice cream in UAE with the delicate chewy mochi rice cake. From traditional to creative, the wide range of mochi flavors will satisfy every palate.

BLUEBERRY CHOCOLATE Mochi Ice Cream

Order your box

Choose your mochi flavors and create happy moments to your loved ones
Make your events extra special with MOISHI
Pomegranate Mochi Ice Cream

Try it now
Mochi Ice cream In a Cup

Try our special jars of mochi ice cream
LOCATIONS
ABOUT US
"When it comes to brand loyalty, Carole Moawad, founder of Dubai-based M'OISHÎ, has set a new standard for fans of mochi ice cream around the world. For the uninitiated, mochi ice cream is a novelty Japanese dessert that wraps varied flavors of ice cream in a layer of mochi, a traditional Japanese sticky rice dough that is considered to be a symbol of good fortune- a concept that Moawad first tried during a vacation in Beirut, Lebanon, a few years back. Instantly, she became not just a good enough customer and a raving fan, but this also led her to become the founder of the first (and so far, the only) factory of the Japanese mochi ice cream concept in the UAE: M'OISHÎ." (Tamara Pupic; Entrepreneur Middle East)
"One of her goals at the moment is to take the brand worldwide to turn it into a Japanese cafe concept" (Sarah Garden; Bazaar MEA)
M'OISHÎ MOMENTS
M'OISHI is a way of living, a lifestyle of simple elegance, a commitment to quality, celebration of beauty in a unique way, and most importantly celebrating life by creating happiness through memories shared with our loved ones.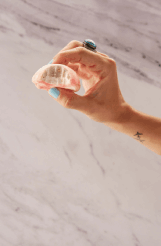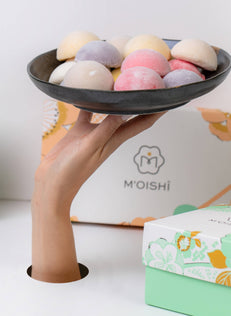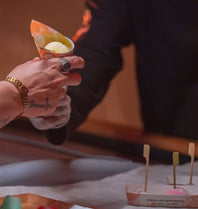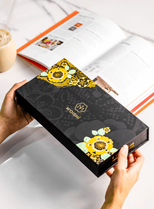 "The Best mochi Ice Cream I have ever had"
"It is the kids favorite, I always have a box at home."
"It is the best gift when invited to dinners, you never over do it with moishi, the minute they are on the table they disappear"
SAY IT WITH A M'OISHI COFFRET
MOISHI THEROMOS
PERFECTLY MADE FOR
THE JAPANESE TEA